This is How we Flys debutalbum är släppt på Irland och kommer släpps i Sverige den 13de februari 2014.
This is How we Fly är en internationellt folkmusikband bestående av Caoimhín Ó Raghallaigh (IRL) på fiol & Hardingfela, Seán Mac Erlaine (IRL) på klarinetter och liveelektronik, Nic Gareiss (USA) på perkussiv dans, och Petter Berndalen (SVE) på trummor och slagverk. Individuellt, har varje medlem skaffat sig ett rykte om att inte bara behärska valt sina områden, utan omdefinierar och förnyar också den musikaliska värld de kommer ifrån.
"Some of the most ear-opening music…"
– Last Night's Fun
"Traditional music shot through with the adrenaline of 
contemporary influences: a lethal but irresistible cocktail."
– The Irish Times
"A white-hot creative crucible uniting four pyrotechnic young talents."
– Celtic Connections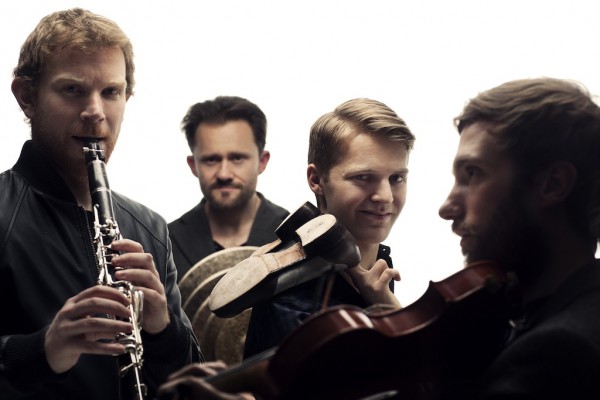 Musiken dessa fyra individuella musiker skapar bygger på irländska, svenska och amerikanska musik- och danstraditioner. This is How we Fly närmar sig sitt material som improvisatörer och skapar spännande liveframträdanden som sträcker sig från tysta återgivningar av skandinaviska fiollåtar, till fritt improviserade kring traditionella irländska hymner med elektronik, samt nya perkussiva kompositioner.
Gruppen bildades på uppdrag från från Dublin Fringe Festival under 2010. This is How we Fly har sedan dess turnerat i hela Irland och Nordirland samt i Sverige och Skottland, såväl som TV-framträdanden på irländska RTE 1 och BBC Alba samt Sveriges Radio P2.
Ladda ned pressbilder och info genom att klicka HÄR!
För fler pressbilder m.m. kontakta:
Petter Berndalen
070-4442228
petter@playingwithmusic.se
info@thisishowwefly.net
www.playingwithmusic.se
www.thisishowwefly.net
Distribueras i Sverige av Border Music AB